To bring people living in poverty to a more prosperous situation, it is necessary to investigate, innovate, and propose good practices. For this reason, at CODESPA we want to share the successful strategy that has allowed us to combine social development with Climate Smart Agriculture (CSA) in the Philippines.
For seven years, we have supported the small seaweed producers who live in the Caraga region. This coastal region is located on the island of Mindanao, in addition to being one of the most virgin and unexplored areas of the country, it also faces harsh weather conditions. Its inhabitants suffer an average of 25 typhoons per year, which poses the risk of losing everything they have.
Seaweed is one of the main forms of livelihood for the Caraga inhabitants. Specifically in the municipality of Hinatúan, which houses a population of almost 45,000 people. There are 10,500 fishermen, 420 being seaweed producers, who occupy 730 hectares dedicated to this activity.
Our commitment has been to guarantee a triple impact: conserving and raising awareness about caring for the environment, promoting greater resilience of producers in the face of inclement weather, and strengthening the local economy of the algae market. Due to our "chain" methodology, all this has been possible.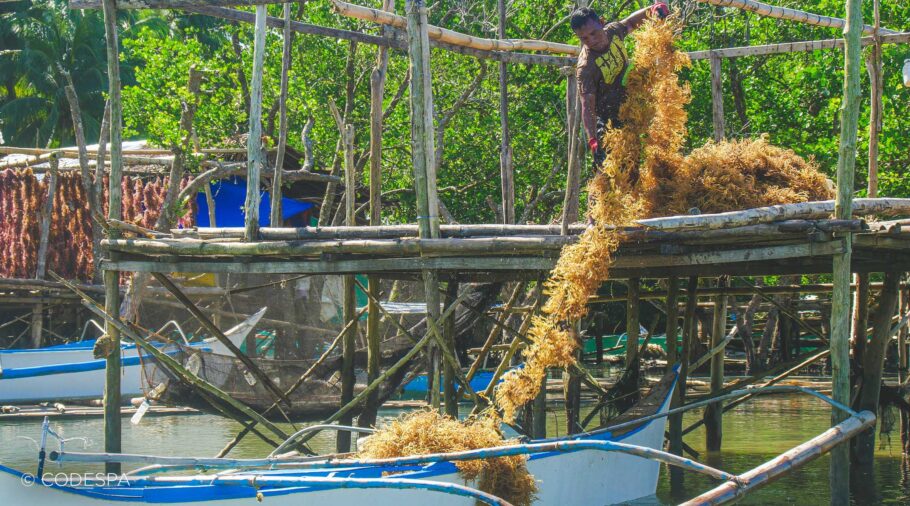 The "Chain Method"
To begin the first phase, we partnered with HSWPA cooperative to organize several days of field schools, also known as demofarms. Formed by groups of 6 to 7 people, in these sessions, these individuals received training in good practice to add value to the product. For example, practices such as monitoring water quality parameters, adhering to the correct drying process, or classifying and storing seaweed efficiently. Thus, we manage to aware the population regarding the use of natural resources, in addition to offering economic incentives to professionalize their work.
But it is not enough to train people, the commercial process has been successful based upon the leadership of the cooperative. In addition to selling locally, the cooperative was able to send 4 containers of seaweed, accredited to the Spanish company CEAMSA, under more advantageous economic conditions. This historic milestone in the area has turned HSWPA's 146 members into entrepreneurs.
Furthermore, new alliances have been formalized. The Hinatúan local government has provided access to finance and storage facilities, while the Bureau of Fishing and Water Resources has offered them higher quality dryers and seaweed. Even the Department of Trade and Industry has been involved in financial management training plus other inputs.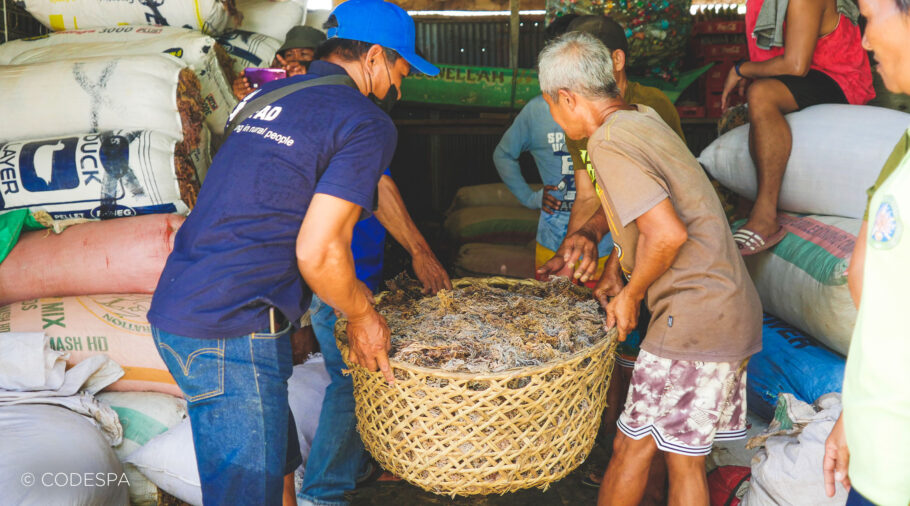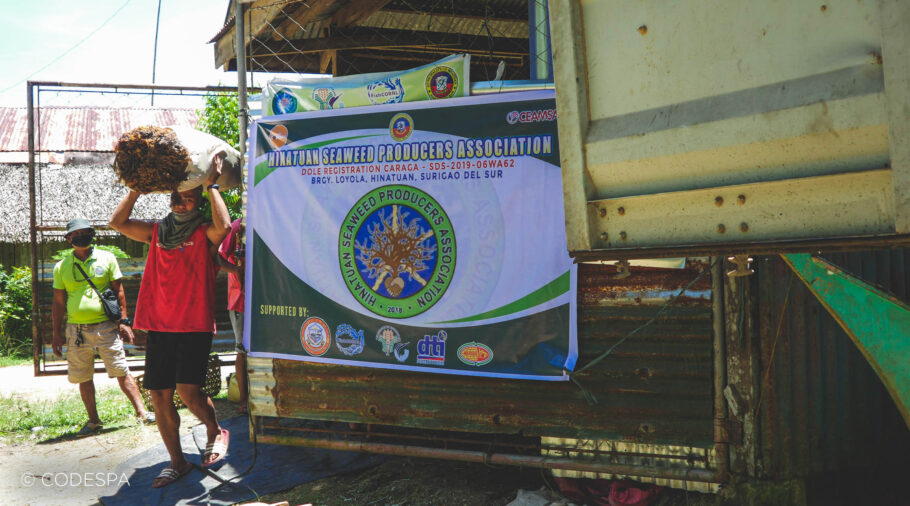 The Philippine seaweed market today
After understanding of this market was established, the association has grown exponentially in recent years. For instance, from 2019 to today, with the health crisis in between, they went from sending 4 containers of seaweed abroad to 12 containers: with an increase of 33% in the price per kilogram. Today, the nearly 200 members of the cooperative have become ambassadors committed to caring for their environment. Its pull effect has also made possible to attract 600 producers from the province in recent shipments.
The goal of HSWPA is to increase the number of partners to consolidate a higher number of production and reach new international clients. CODESPA's goal is to reach new companies, so they can commit to preserving the traditional way of life in addition to improving quality of life in communities.
Written by Elena Martínez, Deputy General Manager of CODESPA.